HEP Opskrba was first to offer a unique product of ZelEn on the electricity market in the Republic of Croatia. This is green energy produced solely from renewable sources. ALTPRO used this fact to complete its policy of quality, environment and safety and contribute to the sustainability of business.
The product is intended exclusively for HEP Opskrba´s customers who are showing a socially responsible attidute, caring about environmental preservation and additionally encouraging production of energy from renewable sources.
Electricity used by ALTPRO is generated solely from renewable sources, which is proven by retiring a sufficient number of guarantees of origin in the Registry of Guarantees of Origin managed by the Croatian Electricity Market Operator (HROTE).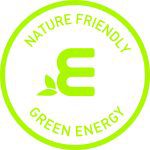 "Altpro d.o.o. as one of the global leaders, for more than 25 years it has been contributing to railway safety with its reliable signaling solutions, and thus to the preservation of the environment and the reduction of incidents and accidents in railway traffic. Continuous work on the safety of railway transport includes the sustainable development of new technologies, solutions and systems for ensuring the safety of railway and rail-road transport. As an additional step towards preserving the environment, reducing the carbon footprint and sustainable development, Altpro d.o.o. became a user of ZelEn electricity produced exclusively from renewable sources in 2022." – Zvonimir Viduka, director